September 4, 2012
If you're going to be in the Blue Mountains area during the Subaru Centurion Canada 2012 event, we'd like to offer you a free coffee.
Saturday September 15 and Sunday September 16 we'll be open at 7AM and offering a free coffee to everyone until 12 noon. Hope to see you then.
2011 Event Highlights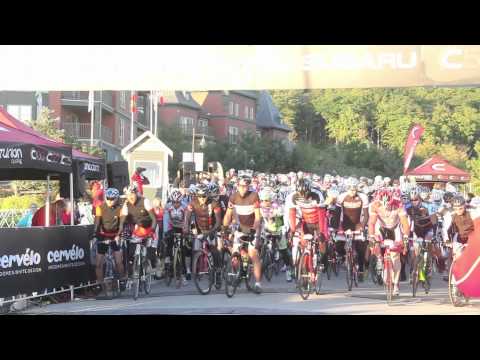 April 3, 2012
Choosing a Collingwood catering service is a an important but daunting task, whether it is for a wedding ceremony or a special event like an anniversary, a birthday party or a reception. This process takes time and you should therefore start early. Some high reputable caterers are not easy to hire and might require even one year advance booking.
Food is an integral part of all celebrations including weddings. Superior food can make a wedding reception very unique and something every guest will remember and talk about for several months. Focusing on high quality catering service for your event will definitely make it successful. There are many caterers available and most of them provide different types of services according to the customers requisition. When selecting a catering service, it is recommended that you carryout enough research, check references and request a sampling before making your final decision. Remember that a good catering service holds the key to success of your special event and therefore this decision must be wisely made.
You must have all your catering needs listed and clearly communicate them to your caterer for you to obtain an accurate estimate. Below are some of the important things you must consider before choosing a catering service for your special event:
Research
Do research on the available catering companies. The research can be through the Internet or any other source. Consider both big and small new catering companies. You must check their authenticity before making any further decision. It is easy to find a good catering company by reviewing what their previous customers say about them. Doing this will enable you know their reputation. If you are satisfied with the services they offer you can approach them for further discussion.
Budget
You must have a budget for the event before selecting the catering service. The budget should give a range of how much you are willing to spend but not one single figure. This is to allow for any menu changes and any extra expenses that may arise. Discuss your budget with your potential caterer before hiring the services. By doing this, you will understand each other's requirements. The type of food to be prepared determines the budget, therefore you should have your guests' preferences in mind when budgeting. The potential caterer should tell you about their charges for different meal arrangements. You should also know the scope of the catering service. Ask if a wait staff will be provided, if all supplies are included and if setup and cleanup are included in the given price.
Overall Event Coordination
You must know how the catering service you want to hire will coordinate with the other events because food and catering usually set the tone. The catering service should be aware of all the other aspects of the event and should be willing to work with them. Some of the other aspects may include entertainment, coordination of flowers and the facility.
Surprises
A good catering service should be able to handle the pressure that originates from surprises. Surprises in an event may include appearance of many uninvited guests or a guest requesting for a special diet at the last minute.
Personality
Choose a catering service that you can get along with . This is very important when choosing wedding catering services. A wedding is the most special event in your life and you will only want a catering service that you can communicate well, interact with then listen and respond to your needs.
Decor style
The style of decoration of the event is a primary requirement. The catering people must be able to provide uniform tables, chairs, paper rolls, water cups, linens and any other decoration requirements. The catering service should have a variety of themes you can choose from. This should be clarified before hiring them.
Food
Ask for the menu plans of the caterers. Their menu must be in line with your requirements for your guests to be satisfied. Some guests may be vegetarian while some may want food with no sugar or salt. Ask if they are using organic ingredients and where they buy them. In case of a wedding, inquire about the wedding cake. If you want every catering aspect to be handled by one caterer, consider choosing a service that can make the cake or works with a reputable bakery that makes such cakes for them. You should also know how the catering service deals with left overs.
With all this information, you can make your decision and book your catering service of choice. Remember that the Collingwood catering service role is not only to prepare good food but make the event memorable, fantastic and special.
October 6, 2011
When you're preparing for a genuinely special event like a Wedding, you want everything to be perfect – the decorations, the entertainment, and often most of all, the food.
Whether it's for a big party or an intimate gathering, your choice of cuisine shouldn't be limited to nearby restaurants and their selection of catering platters.
To find out more about  our Catering Service click here
March 2, 2011
Join us at 2PM Saturday March 5th at The Cheese Gallery , 11 Bruce Street South, Thornbury.
Chef Roger Genoe will be preparing Antje's Fresh Handmade Pasta. Stick around and sample The Cheese Gallery's selection of fine cheese, chocolates and other edibles. See you there!
December 3, 2010
Stop by on Sunday December 5th between 1 – 5 PM and taste some Kolapore Springs Fish Hatchery trout.
If you purchase any Kolapore Springs item you'll receive an entry form and a chance to win the Grand Prize of a dinner for 6 at the Truite Cafe, located at the Kolapore Springs Fish Hatchery.
See www.kolaporesprings.com for more information
June 13, 2010
Please join us for our Father's Day Bar-B-Que on Sunday June 20, 2010 from 5-8 PM.
This is a fundraiser for the new Community Family Health Centre in Thornbury.
Sausages, Hamburgers, Potoato and Caesar Salad will be available with all proceeds going to the new Health Centre.
Adults: $10
Children: $5
Hope to see you on Father's Day!
January 25, 2010
Stay at home, give the kids a treat and have a
Romantic Valentine's Gourmet Dinner
For the kids:
Homemade Mac & Cheese
A movie
Cookies for dessert
For YOU:
Surf & Turf (braised Beef Short Ribs and Giant Deep Sea Shrimp)
With a composition of fresh vegetables and potatoes
Mousse au Chocolat
All included for $37 per adult
Please place your order prior to Wednesday February 10th
and pick up Your Gourmet Dinner on Sunday the 14th
519-599-2796
December 7, 2009
The Ravenna Country Market is having a Christmas get-together on December 19 with extended hours and some special events.
All are welcome.


December 7, 2009
We're offering something special at the Ravenna Country Market for the holiday season.
Take out Christmas Dinner – We cook it for you.
Includes:
Deboned Turkey
Traditional Bread Stuffing
Yukon Gold Wipped Potatoes with real butter
Oven Roasted Carrots and Turnips
Natural Pan Gravy
A half order will feed approximately 10 people – $200
A whole order will feed approximately 20 people – $400
Please order by December 18 and let us know when you'd like to pick it up. Call us at 519-599-2796.


October 12, 2009
The Ravenna Country Market Grand opening was October 10-11, 2009.
The ribbon cutting was performed by Town Of The Blue Mountains Mayor Ellen Anderson. Visitors enjoyed free samples from chef Roger Genoe and much more.